Best New Product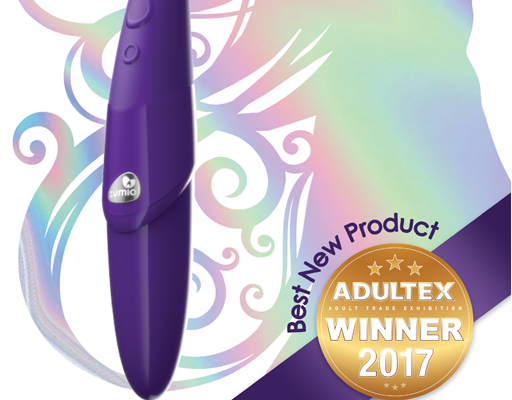 Zumio™ wins Best New Product at Adultex 2017
Attention: Adult entertainment, sexual wellness products reporters/editors
June 13, 2017 | OTTAWA, ON | For Immediate Release | Zumio Inc. proudly announces that its new clitoral stimulation product, Zumio™, has won Best New Product
at Adultex 2017. The adult trade exhibition, showcasing the best new products and latest innovations in sexual pleasure and wellness products took place on the Gold Coast in Queensland, Australia over April 26-28. Zumio is the world's only clitoral stimulator based on the proven circular fingertip motion. Zumio's patented SpiroTIP™ and motor clutch drive system allows users to dynamically go from high speed and intensity down to a low speed and intensity, without having to touch a control, to instinctively and more naturally adjust the stimulation to suit their needs. It is this proprietary design which is credited with creating more intense and varied orgasms. Whereas traditional vibrators generate much more energy than Zumio and shake everything they touch often creating sensory overload and a numbing effect, Zumio's small TIP and dynamic control makes the energy delivered to the clitoral nerve more selective. Zumio's non-vibrating technology also makes Zumio more comfortable to hold.
"We are delighted to receive this award, it confirms our team of female designers have come up with a truly revolutionary clitoral stimulator by taking the natural circular fingertip motion concept to a new level," said Veronica Farmer, Chief Experience Officer, Zumio. "Many thanks to Calvista for this recognition and their hard work in putting on such a successful event."
As well as developing many prototypes, the Zumio design team conducted three years of testing. In trials, users reported better control to achieve a greater variety of more intense orgasms, coming to climax quicker, and experiencing multiple orgasms for the first time. Alone or with a partner, women now have the perfect toy to enjoy a rapid orgasm, multiple orgasms, or hours of pleasure exploration. Pleasure has never been the same. Zumio is available for purchase from a growing list of retailers in Australia, New Zealand, USA, Canada and Europe, as well as Amazon and
www.dreampress.myzumio.com/buy-now
---
About Zumio™
Zumio Inc. transforms women's desires and ideas into innovative products and experiences. Our flagship clitoral stimulation product, Zumio, was conceived, designed and perfected by women. The unique, patented SpiroTIP™ motion was inspired by the natural movement women have used to pleasure themselves throughout the ages. Zumio can deliver a fast, intense orgasm, multiple orgasms, or hours of delicious exploration for a unique experience each time. Zumio was created by the Zumio was created by the
design and engineering team
that helped Standard Innovation develop the world's leading We-Vibe® pleasure product, and Joylux Inc. to develop vSculpt™, the world's first vaginal rejuvenation product, for the sexual health and wellness industry. Join the Pleasure Revolution and give Zumio a whirl.
www.dreampress.myzumio.com
+1.800.646.1233
Press inquires, please contact:
Veronica Farmer:
veronica@dreampress.myzumio.com
or +1.613.862.3346
Try Zumio
The are 4 Zumio mododel. Each is made of different materials, with a special-shaped tip, and shaft length delivering a uniquely pleasurable experience. All Zumio models have adjustable intensity controls, are easy to use, and work wonders.
Own Your Orgasm
Zumio's clitoral stimulator has patented SpiroTip™ rotation technology that lets you pinpoint your exact pleasure spots for the most satisfying orgasm imaginable.
Experience it for yourself!