Shop Zumio Products
🎄Cyber Week - Last Day🎄 Save Over 30% Off All Zumio Products
Verified Reviews
Thousands of Truly Satisfied Customers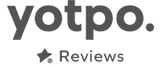 One was fun. Two is twice as nice and unescapably pleasurable. Highly recommend!
WOW! She loves it. Got this for my wife. Works great. Excellent gift idea.
All Zumios are great. I can't decide my favorite. Try them all. You will orgasm every time.
S J
Stephen J.
Verified Buyer
One was fun. Two is twice as nice and unescapably pleasurable. Highly recommend!
Amazing how quiet this is! All of the power is isolated to a very small tip, which makes for a powerful and quiet experience. It's about the size of a toothbrush, so it's extra discreet and easy to transport! Highly recommend!
J P
Jordan Pogo
Verified Buyer
My all time favorite. Long lasting battery, I only charge it every few days. Great for anyone who likes powerful direct external stimulation. Extremely efficient.
Not Sure Which Model To Choose?
Bundle Together and Save Over 37%
Zumio
S+I
Long + Slow / Gentle
Zumio
X+S
High-intesity/gentle
Zumio
E+S
Most-intense/gentle
Zumio
X+I
Quick+intense/long+slow
Zumio
E+I
Most intense/long+slow
Zumio
X+E
For incredible intensity
Accessories & Extras
Extra Charging Unit
Includes Charger + USB Cable
Extra Travel Cap
Purple Color
Side Table Stand
Fits Any Zumio Model
Unsure Which Zumio Is Best For You?
Every body is different. Some of us are very sensitive and need just a gentle, soft touch. Some of us like it hard and intense. And some of us like it right in between. Zumio's 4 Models cater to your specific needs and sensitivity levels.

Which Zumio is best for you? Well, it depends. What kind of orgasm do you want? Select below to reveal your perfect Zumio model.
Choose your Zumio
What kind of orgasm do you want?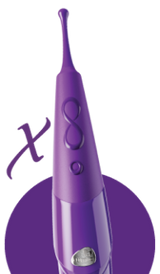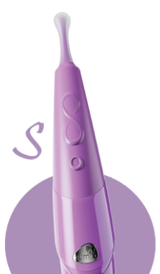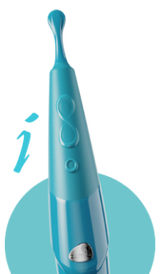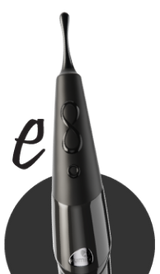 Zumio Features
All Zumio models have adjustable intensity controls, are easy to use, and work wonders.
Precision and Power
8 power settings and inuitive on/off and speed up/down controls make it easy to find the perfect speed and intensity on the fly.
Rotation Not Vibration
Unique SpiroTip™ rotates in tiny circles creating satisfying stimulation without any buzzing or numbing sensation.
Pinpointed Pleasure
Like a fine artist's paint brush, the small tip allows for pinpoint precision. Gives you complete control to find the sweet spots.
Pressure-Sensitive
Pressure-sensitive stem lets you instantly adjust the intensity level. Responds by how hard or soft you press against the body.
Perfect for Partner Play
Great for partner play! Because of it's small, size, it makes for an amazing enhancement to intercourse -- without getting in the way.
Lets You Get Wet
Fully waterproof, so it can be used in the bath, shower, or anywhere else you want to get wet. Really wet!
Whisper Quiet
Doesn't rumble, vibrate, or jiggle the way many other sex toys do. Won't leave you numb. Just buzzin with satisifaction.
Small and Discrete
A great travel companion. Purse-friendly. Fits anywhere you'd like to bring it. Lock mode prevents acidential activation.
2-Year Warranty
A faithful bedside companion. Feel confident knowing you can count on it for many, many years to come.
Bonus
Included Free With Every Purchase
Every customer will get Zumio's "Mapping Your Pleasure" guide absolutely free, with every purchase ($25 value)
Compare Zumio
The Greatest-Precision Clitoral Stimulator on the Market
| | Zumio X | Rabbits | Hand-Held Wands | Bullets | Suction Toys |
| --- | --- | --- | --- | --- | --- |
| Deliver Clitoral Orgasm* | | | | | |
| Stimulate Small Sensual Spots | | | | | |
| Control Intensity With Touch, Not Buttons | | | | | |
| No vibration | | | | | |
| Low energy use – green product | | | | | |
| Direct stimulation during Penis-in-Vagina Intercourse | easy to hold | | | Hard to hold | |
| | Shop Now | | | | |
*Each product creates different orgasm experiences, Zumio provides a unique exciting orgasm, different than all the others. READ MORE
Recommended as a
Top Sex Toy

by Leading Sex Experts
Rachel
Wright
Sex Educator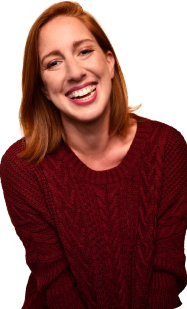 Byony
Cole
Sex Tech Expert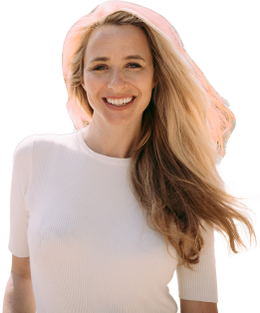 Own Your Orgasm
Zumio's clitoral stimulator has patented SpiroTip™ rotation technology that lets you pinpoint your exact pleasure spots for the most satisfying orgasm imaginable.
Experience it for yourself!