The Journey of Zumio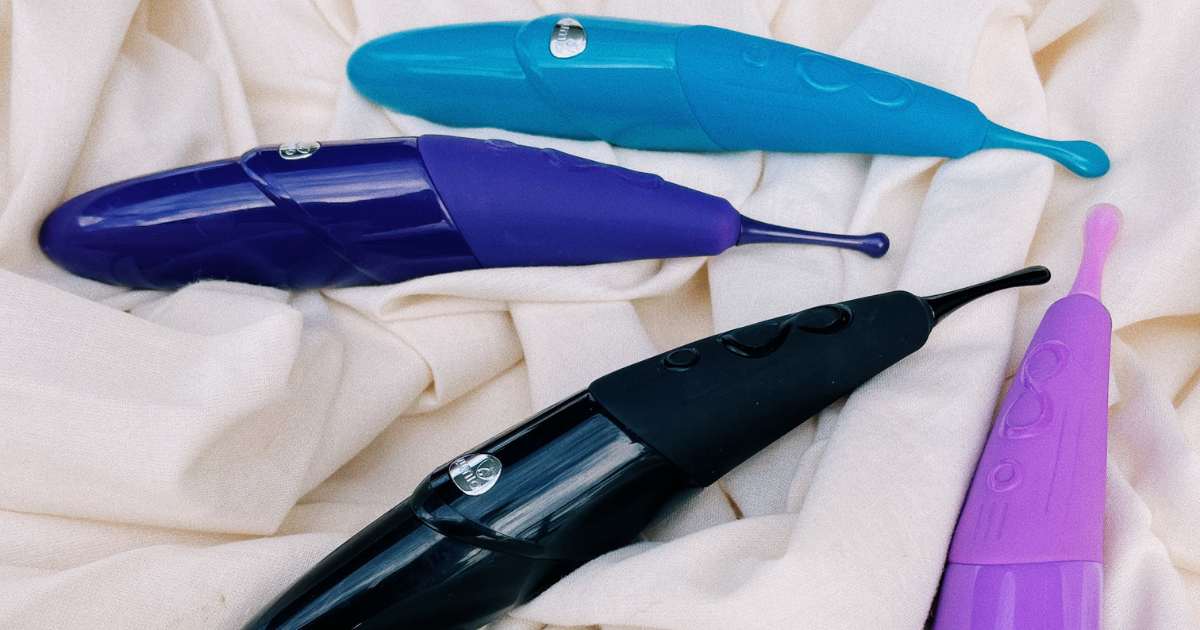 The brand that would become Zumio began in 2013 with an idea that was inspired by the natural rotation of your finger during masturbation.  
What if we could design a product that was unlike any other product in the marketplace that delivered that same sensation as your finger but at a whole new level. What if we could empower women to explore and get to know their body better and heighten their awareness around sexual health and wellness.  
At Zumio, we had a passion to deliver a luxurious, iconic, high-quality product and be a part of our customers day to day enjoyment. An emotional attachment, like an old friend, that you come back to for many years to come.  Most importantly though, we wanted a design that our customers could on their own or with their partner, spend time exploring and reacquainting themselves with their body, and experience new sensations in all those wonderful nooks and crannies that makes each of us so unique.
We are a product design driven team, primarily women with vaginas, so we spent almost 3 years building a quality product with a lot of prototype testing and more testing, to get the pinpoint and concentrated energy just right. Alongside us was an amazing cohort of women between 25-75 years of age who tested every version and iteration of the product, provided tremendous amount of feedback, and weighed in on color and features.
At the end of the three years, we were able to introduce a clitoral stimulator that was unlike anything else in the market. Zumio is the only product that uses patented Spiro-Tip™ technology, which spins instead of vibrates, opening an entirely new way to play.
We introduced Zumio Xena in 2016, Zumio Sadie in 2017, Zumio Ethel in 2018 and Zumio Iyana in 2020. All products are available globally in 16 countries. The 4 different products are specifically designed for your personal intensity preference and Zumio is great for vulva mapping and exploring your body, solo or with a partner. It spins with a concentrated pin-point energy that you control how and where you use it.
Zumio is a one-of-a-kind toy that gives you a unique experience to explore different stimulation and pleasure all over your body. And guess what, no vibration! No tingling or numbness in your hand or up your arm. The product has been designed to be discrete, waterproof, 8 speeds and has a two-year warranty. And is travel ready even if it's only from one bedroom to another. 
Now some important information. You've probably worked this out by yourself, but if you own a vulva, there's a 3 in 5 chance that having penetrative sex doesn't always result in an orgasm. Here's where Zumio can help change those odds. In a partner scenario, the product fits between you and your partner and allows you to stimulate yourself or your partner during intercourse which assists in a mind blowing orgasm.
Zumio is also an excellent tool for vulva mapping which is a practice to help you learn the topography of the outer part of your genitals. Using Zumio to help you explore your body through the concentrated energy of the tip helps you discover the" hot spots" and erogenous zones so that you can expand your orgasmic potential.
We want everyone to live their best life and thrive in their sexual wellness. We hope that Zumio will introduce you to all the wonderful experiences and sensations that exploring your body can deliver. Take control of your orgasms today!
Here's what our customers and media are saying about Zumio:
"Zumio is a really good brand, dedicated to helping women experience pleasure in a way they haven't experienced it before"
"Zumio is the absolute closest a clitoral toy has ever come to being an 'instant orgasm' button for me."
 "Zumio isn't the average clitoral vibrator, in more ways than one. It's new, it's groundbreaking and it works. The Zumio really did step up to the plate and give me something I can't get anywhere else.
"The Zumio toy's narrow stem and rounded tip deliver sensations more precisely than any other vibrator we have tested. This toy is ideal for those who like to focus stimulation on a particular part of the clitoris or vulva, as the small surface area of the oscillating hard plastic tip causes the vibrations to feel more concentrated in the areas they come in contact with. This makes the Zumio excellent for partner play or solo use."
"While the majority of powerful sex toys tend to be larger and heavier (a more powerful motor = more weight), the Zumio X is proof that good things can also come in small packages. The teeny-tiny tip is meant for ultra-precise clitoral and labial stimulation, so if you like direct clit stimulation, this is your best bet. There are eight modes. It's waterproof and rechargeable, and the body of the toy itself doesn't vibrate much, meaning your hand won't cramp up using it"
"The Zumio S$ looks kinda like a funky Waterpik—it even sits upright in its charging dock. It's also not technically a "vibrator" per se; its magic lies in its rotation technology, delivering pinpoint stimulation exactly where you want it. The S model offers 8 speeds and less intense pressure than the X version; perfect for those who prefer a lighter touch (to increase the pressure, press down). It's also fairly quiet, and the simple button interface makes it easy to power down in the dark."
Try Zumio
The are 4 Zumio mododel. Each is made of different materials, with a special-shaped tip, and shaft length delivering a uniquely pleasurable experience. All Zumio models have adjustable intensity controls, are easy to use, and work wonders.
Own Your Orgasm
Zumio's clitoral stimulator has patented SpiroTip™ rotation technology that lets you pinpoint your exact pleasure spots for the most satisfying orgasm imaginable.
Experience it for yourself!