Best New Female Product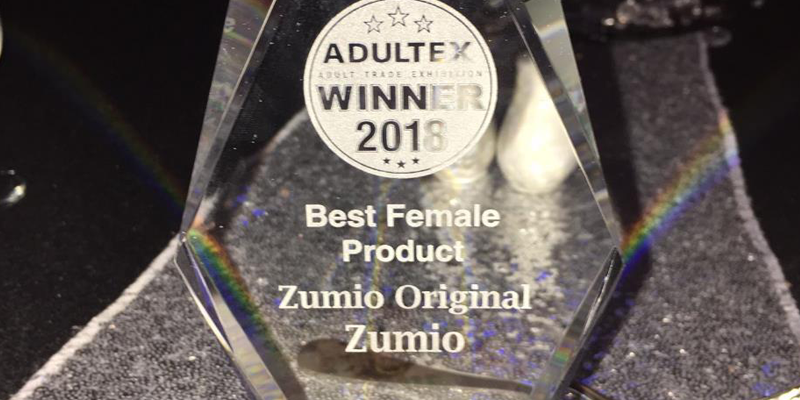 Zumio Wins Best Female Product at Adultex 2018
Adultex is an annual adult trade exhibition that takes place on the beautiful Gold Coast in Queensland, Australia. The event showcases the hottest new adult products and concludes with an award ceremony to acknowledge the best new products and innovations. The Zumio team is excited to announce the flagship clitoral stimulation product - Zumio - has won the Best Female Product award at Adultex 2018. For the second year in a row, the Zumio team has won an award at Adultex. Last year, Zumio won the
2017 Best New Product
- a major honor for any adult toy manufacturer.
"We are thrilled to receive this award, it confirms our female design team has truly hit the mark in developing a revolutionary new clitorial stimulation experience that women love", said Veronica Farmer, Chief Experience Officer, Zumio.
The flagship Zumio is the world's only clitoral stimulator based on the proven fingertip motion. Zumio's patent SpiroTIP™ and motor clutch drive system allows users to dynamically go from high speed and intensity down to a low speed and intensity, without having to touch a control, to instinctively and more naturally adjust the stimulation to suit their needs. It is this proprietary design that creates more intense and varied orgasms and was acknowledged with the Best Female Product award. Zumio is now available for purchase across the world from a growing list of top retailers.
https://dreampress.myzumio.com/buy-now/
Try Zumio
The are 4 Zumio mododel. Each is made of different materials, with a special-shaped tip, and shaft length delivering a uniquely pleasurable experience. All Zumio models have adjustable intensity controls, are easy to use, and work wonders.
Own Your Orgasm
Zumio's clitoral stimulator has patented SpiroTip™ rotation technology that lets you pinpoint your exact pleasure spots for the most satisfying orgasm imaginable.
Experience it for yourself!