Success at eroFame 2017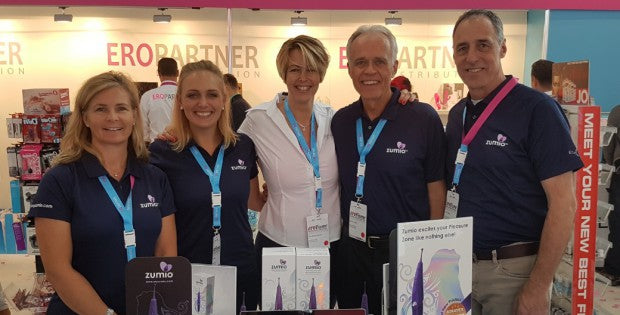 Zumio enjoys more success after eroFame 2017.
After a successful introduction of Zumio earlier this year, the new Clitoral Stimulator was introduced to the big audience at eroFame this October. The Zumio brand introduction included
custom signage
and the entire Zumio team. Zumio is enjoying huge success. The new product with its unique SpiroTip is receiving a lot of positive feedback from bloggers and users after testing the new product. The reviews point to a very different pleasure experience with Zumio. Retailers are receiving more and more requests for the Zumio product and enjoying an increase in their sales. Yes, some people will have to get used to the design of the Zumio – it has a very different look. Some say it's not so sexy looking, but the reviews indicate an efficiency that proves otherwise. Zumio brings women to an intense orgasm, even women who experience difficulties achieving an orgasm find this product very helpful. It's a great addition for couples who love to play.
"We have been delighted with the amount of positive responses we have been receiving in the form of comments on social, emails, reviews and blogger love for Zumio," said Veronica Farmer, Customer Experience Officer, Zumio. "Our unique design and technology is introducing a completely new way to achieve pleasure and we're happy to see that the marketplace is enjoying that it's not just another vibrator in a different form."
It's important to know how to properly use Zumio, so please see the Zumio video available on Eropartner's website. Zumio is available at
Eropartner Distribution.
Try Zumio
The are 4 Zumio mododel. Each is made of different materials, with a special-shaped tip, and shaft length delivering a uniquely pleasurable experience. All Zumio models have adjustable intensity controls, are easy to use, and work wonders.
Own Your Orgasm
Zumio's clitoral stimulator has patented SpiroTip™ rotation technology that lets you pinpoint your exact pleasure spots for the most satisfying orgasm imaginable.
Experience it for yourself!