Step #1:
Explore and Orgasm Like Never Before!
Zumio acts like a fine artist's brush giving you pinpoint stimulation for multiple orgasms. Adjustable speed controls and the pressure-sensitive stem mean you control the intensity level.
Step #2:
See How To Hold It
Zumio looks strange and is different from the wands, vibrators, or suction toys you may have tried.

But using a Zumio is natural, straightforward, and intuitive. Simply hold Zumio like a pen and explore your pleasure spots.

Checkout this short video to learn more:
Step #3:
Find the Zumio That's Right For You
Every body is different. Some of us are very sensitive and need just a gentle, soft touch. Some of us like it hard and intense. And some of us like it right in between. Zumio's 4 Models cater to your specific needs and sensitivity levels.

Which Zumio is best for you? Well, it depends. What kind of orgasm do you want? Select below to reveal your perfect Zumio model:
Choose your Zumio
What kind of orgasm do you want? Choose Your Zumio: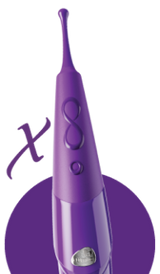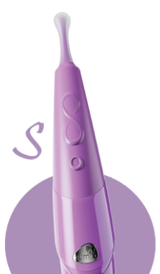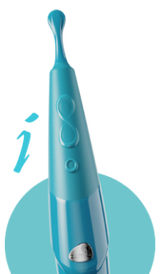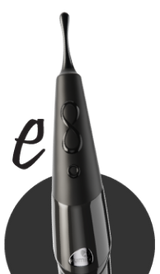 How To Use Zumio
Just for a Second, Let's Talk Nerdy
What is Zumio anyway?

Zumio is a clitoral stimulator and exterior-use adult pleasure product that's different from all the other toys out there.

Because it rotates instead of vibrates, and has a specially shaped fine tip, it gives you pinpoint stimulation for multiple orgasms.

Some people are concerned they'll get a Zumio and won't know how to use it. Or it won't work for them. Others are scared the powerful tip might hurt or be uncomfortable.

Zumio is completely body safe, caters to all sensitivity levels, and according to thousands of 5-star reviews is incredibly effective!

Zumio may look strange -- but it's designed for pleasure.
LEARN MORE
LEARN MORE
Step-by-Step Visual Guide How to use your Zumio.
Mirror Exploration
Use a handheid mirror to see exactly what you're doing and take mental notes of what works, so you can develop a mental map of where your most pleasurable zones lie.
Mirror Exploration - Click to View
Different Grips
One way to hold the Zumio is to squeeze your thumb and your middle finger around it and place your index finger onto the intensity button, so you can easily adjust the setting. You can also hold it like a hairbrush, gripping the stem, with your thumb on the intensity button.
Different Grips - Click to View
The Perfect Tease
Lay the Zumio stem and head so that the entire stem and head is in contact with the outer lips (labia majora), and slowly move the Zumio around the outer lips, around and over the mons pubis and down the other side. See what feels good here. Pro top: Most new users go straight to the clitoris, which is usually too sensitive at this point without sufficient warm-up. Instead, tease yourself until you can't take it anymore.

Explore the inner lips in the same manner. Maybe start on the edges where the inner and outer lips meet and work your way in using the same kinds of explorative motions to see where you enjoy touch the most.
Tease #1 - Click to View
Tease #2 - Click to View
Clitoris Warm-Up
Now starting with the tip about 1.5 inches lower than your clitoris, position the stem against the side of the clitoral hood, and slowly slide the tip up to find the right amount of intensity. The stem provides the least intense stimulation, and it is a good way to introduce stimulation to the clitoris in a way that is gradual.
Clitoris Warm-Up - Click to View
Tease The Shaft
Using the head, explore the shaft of your clitoris. This is the part that is underneath your clitoral that can be left where the clitoris is erect.
Shaft Tease - Click to View
Calibrate Pressure
Another smart feature of the Zumio is that if you press the head hard down towards your body, it will stop the rotation, but continue to pulse. As you slowly lift it up, it will get more intense as it has space to move. So, to see how much intensity, you like, press down and slowly lift up, stopping at your preferred level of sensation.
Add Pressure - Click to View
Pull Back the Hood
Reach down with your index and middle finger on either side of the clitoris and spread your fingers while pressing down, and then pull back. This will fully expose the clitoris.
Open Hood - Click to View
Clitoris Sandwich
Squeeze both outer and inner lips between your index and middle finger to make a lip sandwich with the head of the Zumio running along your outer lip. The sensation will transfer from the outer lip all the way through to the clitoris. For more sensitivity, this is a great way to decrease the intensity. You could also run the Zumio along the line between your finger and outer lip so that your finger absorbs some of the sensation from the Zumio. This is an even gentler version of the same technique.
Option #1 - Click to View
Option #2 - Click to View
Right on the Button
With your head pulled back, you can press the stem directly on the clitoris, and then move the toy upwards until the Zumio directly hits the clitoris.
Press Button - Click to View
Multiple Orgasms
Pro tip: Have one orgasm with the highest amount of intensity. Immediately after the orgasm, press the toy down until it stops rotating. As soon as you're ready for another, lift the tip up slightly and get ready for the next back-to-back-orgasm. You can also move to the other slide of the clitoris for the second orgasm, which often helps the second one come easier!
Tip #1 - Click to View
Tip # 2 - Click to View
So Close You Can Feel It
Zumio's clitoral stimulator has patented SpiroTip™ rotation technology that lets you pinpoint your exact pleasure spots for the most satisifying orgasm imaginable.
Experience it for yourself!
But Will It Really Work For Me?
Here's What Hundreds of People LikeYou Have To Say:
One was fun. Two is twice as nice and unescapably pleasurable. Highly recommend!
WOW! She loves it. Got this for my wife. Works great. Excellent gift idea.
All Zumios are great. I can't decide my favorite. Try them all. You will orgasm every time.
S J
Stephen J.
Verified Buyer
One was fun. Two is twice as nice and unescapably pleasurable. Highly recommend!
My wife and I were looking for something as strong as her wand that didn't get in the way. Zumio is perfect.
I avoid vibrators because I'm too sensitive but Zumio's tip makes it easy to control where the stimulation happens.
Recommended as a
Top Sex Toy

by Leading Sex Experts
Techniques & Tips to Discover
Pleasure