Original Zumio Renamed Zumio X and New Zumio S Now Available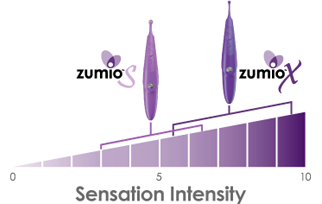 We're pleased to announce some exciting news at Zumio - the award-winning original Zumio personal stimulator is getting a new name, Zumio X, and the new Zumio S is now available!  
At Zumio we understand that each person is unique, with a unique level of sensitivity, so we created a second Zumio model to appear to a wider range of user moods and sensitivities. Zumio S features a larger, softer tip with a shorter extension, giving a different feeling and lower level of intensity compared to Zumio X. If someone craves intensity, we recommend trying Zumio X. If they're not sure about intensity, they can start with the new Zumio S. The Zumio X and Zumio S both feature the tiny but powerful SpiroTIP™ that whirls around in tiny circles, concentrating wonderfully unique pulses of pleasure to one small area at a time. Zumio is radically different from other sex toys.
Explore the biggest range of surprisingly new and thrilling experiences, including: quick, slow, multiple, and many kinds of new orgasms; orgasms together while making love; unique foreplay arousal; and to electrify nipples and all over both men and women. Both models feature: a slender, ergonomic design, perfect for both solo and couples play; eight-speed settings combined with quiet, waterproof operation for use anytime the mood strikes; a long-lasting, USB rechargeable battery; and a one-year warranty. Each Zumio model enables a different experience, try both to extend the huge range of thrilling Zumio sensual experiences that can be explored. Join the pleasure revolution and give Zumio a whirl!
Try Zumio
The are 4 Zumio mododel. Each is made of different materials, with a special-shaped tip, and shaft length delivering a uniquely pleasurable experience. All Zumio models have adjustable intensity controls, are easy to use, and work wonders.
Own Your Orgasm
Zumio's clitoral stimulator has patented SpiroTip™ rotation technology that lets you pinpoint your exact pleasure spots for the most satisfying orgasm imaginable.
Experience it for yourself!