Zumio - a sex toy for every body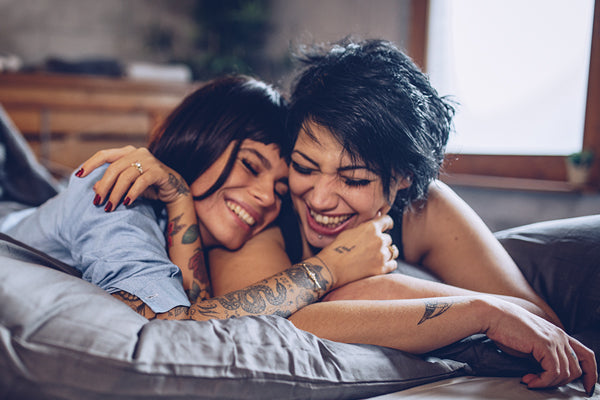 You're not alone if you can't explain what the Zumio actually looks like. It's kind of like an electric toothbrush, or maybe a paintbrush, or a pen! We find that it's actually much easier to talk about what it doesn't look like.
Because it doesn't look like any body part or any other sex toy. And that's just how we like it. Zumio is simply a sex toy that uses pinpoint oscillations to stimulate the body. Where on the body you choose for that pinpoint stimulation to go is up to you. But here are a few of our favorite areas to get you started.
Ok, ok. By popular demand, we will start with the clitoris
It's important to know that the Zumio doesn't vibrate. That fine tip actually whirls around in tiny circles for a completely unique oscillating sensation that users love. It is deep, intense and rumbly making it an ideal toy for direct stimulation on or around the clitoris. But just because you originally found the
Zumio in the clitoral toys category doesn't mean it has to stay there right?
The labia likes love too 
It's not just the clitoris that likes to be stimulated, the whole vulva is full of nerve endings and exploring them with the Zumio can be a lot of fun too. You will also likely feel some indirect stimulation on the clitoris during this type of play which can be a nice, new sensation. And, a nice little breather from that intense clitoral stim. "Don't forget us!" – your nipples Nipple play. Some love it, while others hate it. But, if you do love it, then you might just love the way Zumio can stimulate those too. Try using the tip for direct pressure.
Or, you can try circling your nipple using the side of the stylus for a completely different experience altogether. Even those that find other nipple vibrators a bit on the tickly side may find that Zumio actually works for them. The difference is that Zumio moves, it doesn't vibrate. And, that is why it can be used to stimulate areas that some other vibrators might tickle.
A pleasant surprise for your penis The Zumio can be a lot of fun for penises too. You can use the tip or stylus to stimulate the frenulum or really go for gold and use it on the head of the penis to circle the urethra. And while you are at it, you might as well test out how it feels against the perineum too right? A quick clue: It feels awesome!
Tease me to please me And remember that Zumio doesn't always need to be the star of the show! You can use it alongside other toys too or during sex with your partner to add some extra stimulation to your play.
Or of course, you can use it as a toy for teasing and watch your partner squirm with pleasure. That line between pleasure and pleasurable torture is certainly a fine one. And, a toy this intense really makes the most of it. Zumio is a sex toy for all bodies and all orientations. If you enjoy pinpoint precision, intense stimulation and a whole lot of pleasurable exploration then it might just be right for you too. Buy Now
Try Zumio
The are 4 Zumio mododel. Each is made of different materials, with a special-shaped tip, and shaft length delivering a uniquely pleasurable experience. All Zumio models have adjustable intensity controls, are easy to use, and work wonders.
Own Your Orgasm
Zumio's clitoral stimulator has patented SpiroTip™ rotation technology that lets you pinpoint your exact pleasure spots for the most satisfying orgasm imaginable.
Experience it for yourself!